Podcast Studio Setup: The Complete Guide To Setting Up Your Home Studio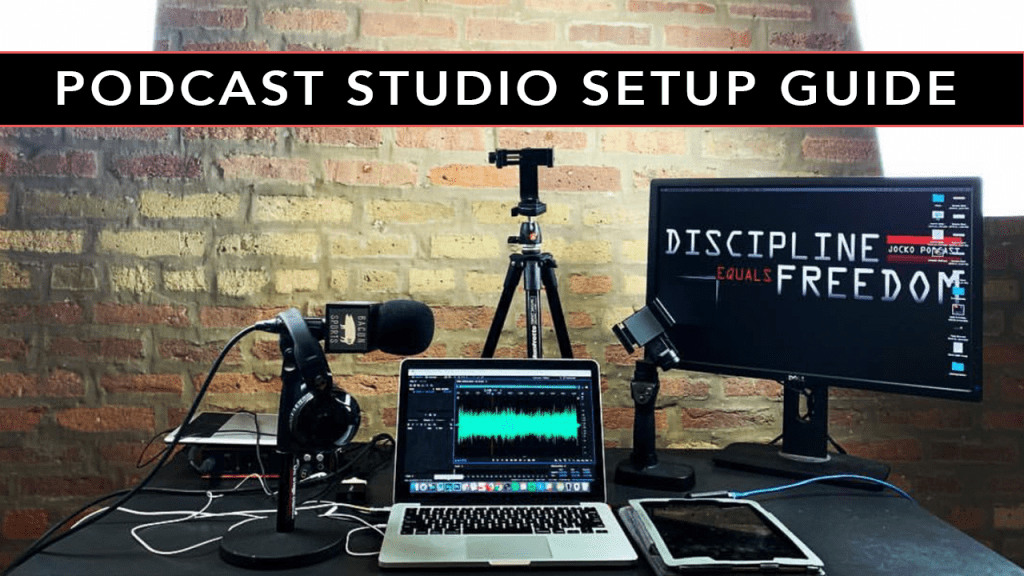 Podcasts are a great way to build your brand and get your voice out into the world. If you want to start your own show, you might be wondering how to set up your podcast studio and what podcast equipment to buy. Don't worry, I've got you covered. I've published over 1000+ podcast episodes and learned what does and doesn't work. In this podcast equipment guide, I'll share some of my best tips for setting up your home podcast studio. I'll cover everything from the podcast equipment you need, and how to create a podcast starter kit, to the do's and don'ts of podcasting.
Note: If you are looking to launch a podcast our next Shining Your Voice cohort is starting soon.
Podcast Equipment
One of the great things about podcasting is the low barrier to entry from an equipment standpoint. As you get more advanced you can upgrade your equipment, but on the simplest level you can produce a high quality podcast with a lot of the equipment you already have (most notably your computer and your phone).
This is an area that trips up many aspiring podcasters as they think you need to spend a ton of money to get into the game. That's not true. Getting upgraded equipment is a nice to have, not a need to have. Get comfortable and consistent with publishing your podcast first, then when you are ready to take your podcast studio to the next level you can start investing.
There is only one thing that I would put in the "need to have" category, and that is some sort of microphone. The reason is because you want to produce high audio quality so it is an enjoyable experience for your listeners. Remember: everything you do is a reflection of your brand. You should be able to get your podcast audio to a near professional level pretty easily without having to spend a ton of money.
Podcast Microphones
Here are a few podcast microphone options for different budgets. Don't over think this or spend too much time on it:

Medium Cost: Blue Yeti USB. ($113) (Buy on Amazon) It plugs into any UBS port so it should be super easy to hook up to your computer. It should be pretty simple to use. It comes highly recommended by many podcasters (I have not used this mic.)

Medium Cost: Shure SM-58. ($99) (Buy on Amazon) This is what I currently use and it's great. I purchased two of them so that I can host in studio interviews via my audio interface. The sound is clean and crisp. Note: this microphone uses XLR Male to XLR Female cables to connect to an audio interface. I do not recommend this option unless you are using a mixer/interface (as it won't plug right into your computer).
High Cost: Heil PR-40: $327 (Buy on Amazon) I have not used this mic but it comes highly recommended by many professional podcasters. You'll have to buy extra XLR cables for it as well, but the audio quality will be as good as it can get. There is an option to purchase an XLR to USB cable if you want to hook it up to your computer.
Low Cost: Audio-Technica ATR2100 ($67) (Buy on Amazon) It plugs into any UBS port so it should be super easy to hook up to your computer. It's a good starter mic (I have not used this mic.)
Other podcasting microphone options:  

Blue Icicle($49) (Buy on Amazon) In simple terms, this allows you to plug an XLR cord (which is what the Shure SM-58 and many other microphones use) into a USB port. This is a great option if you decide to purchase a non-USB mic. When I first started podcasting and had only a one microphone setup with no mixer this is what I used. I also use it sometimes when I am traveling and don't want to bring a lot of equipment with me.  

Tip: I found out that the Blue Icicle can be great for shooting vlog style videos as well. You can record the video in Quicktime and hook up your mic to get better sound audio. (By the way, if you are looking for podcast ideas for creating your show this will help you out.)
Podcast Camera
When starting a podcast I highly recommend including a video component with it. It's minimal extra work and allows you to create more content from one podcast episode (if you choose). Also, just because you record the video of your podcast doesn't mean you need to use it right away. You can build a content library and do something with it at a later date (which is what I did when I started podcasting).
When building your podcast starter kit I recommend keeping it simple, especially at the beginning. I started out with using just the built-in camera in my Mac. When you are ready to upgrade from there here are a few podcast camera options to consider.
Logitec c920 (Buy on Amazon) – $90 – Adding this webcam to your podcast studio setup is a no brainer. It'll immediately increase your video quality, which will separate you from 90% of people out there. It shoots in 1080p and you'll see a noticeable improvement from you computer camera. It is also plug and play as it uses USB. From a mobile podcast studio standpoint, because it's small and portable you can take it with you everywhere.
Sony a6400 (Buy on Amazon) – $900 – When I was ready to take my podcast studio setup to professional level I purchased this camera. I did so because it was recommended as a great option for live streaming podcasts. I purchased the camera only and added the Sigma 16mm f/1.4 as the lens. This allowed me to create that blurred background effect, which takes your quality to the next level. If you want to live stream using this setup you'll also want to get the Elgato Cam Link 4k. That'll allow you to connect everything together.
Podcast Recording Software
Zoom is my preferred online podcast recording software for getting started as is it most reliable. It is super simple to use, you can see your guest, and it costs $0 if you are recording with only one other person. (Note: you'll need to upgrade to the paid version if you want to record longer than 45 minutes)

The process for setting up a podcast recording in Zoom is the following:
Click "Schedule A Meeting."
Insert the Topic/Meeting Name and choose what time it'll be at (I always add an extra 30 minutes just to be safe.)
Click "Video On" for both the host and participant (that way you can both see each other.)
Click Audio "Both"
Click Save
Once you do that you'll be given a link for the meeting that you can send to your guest, as well as a phone number (if you want to give them that option as well.)

It is good practice to show up at least 5 minutes before your meeting starts, that way you have time to test your microphone setup ahead of time.

And speaking of the microphone setup, before each recording in Zoom make sure that you click in the top left corner of your browser, find "Preferences" and make sure your microphone is set up and listed.

When you are ready to record hit the "Record" button in the bottom right of the screen.

Zoom podcast recording tips:

When possible hard wire your internet connection into your computer. I purchased a longer ethernet cable in order to do this.

The reason you want to do this is so that you have the best possible Internet connection. Zoom is reliable but not perfect. This helps improve the video & sound quality.
I recommend recording Zoom calls with being able to see your co-host/guest if possible. The reason is because you will be able to build a greater connection with that person if you can see them. It'll also run a little smoother as you'll be able to use body language to communicate, which should help the podcast quality.
If the connection on Zoom is not good then turn the video off for both sides (so it's audio only). That'll help improve the quality. The important thing is that you get good sound quality on the podcast. 

Live Streaming Podcast Recording Options
Ecamm Live – $50/month – I started using Ecamm Live so I could increase the quality and production level of the podcasts I created. Ecamm makes it easy to add in graphic intros & outros, multiple cameras or inputs (like your iPhone or iPad), or audio sound drops to make your podcast pop. You have the ability to live stream to multiple platforms at a time, while also recording a local copy of your video on your computer. Recording a local copy is very important because I found it a lot more user friendly than recording directly from my DSLR camera.
StreamYard – $25 to $50/month – I used StreamYard for a while and really liked it. It's simple to use and get setup. With the professional version you get the ability to stream to 8 social media platforms at once (which saves you from having to purchase Restream). If you are looking to stream to LinkedIn Live, YouTube or Facebook then this is a great option. While it allows you to add graphics to your podcast, I found that Ecamm had more functionality in that category. StreamYard was easier to use right away, so it's my recommended option if you are just starting out in podcasting.
In Person Podcast Recording Options
Garageband: When I first started podcasting I used GarageBand, which came with my Mac, and it was great. It allows you to record and edit podcasts. The software is pretty easy to use and after watching a few YouTube videos on how it works I was up and running in no time. This is my recommendation for anyone starting out who is using a Mac.
Audacity: A free software editing option for Mac and PC is Audacity. I used it as well and found it pretty simple to learn after watching a few YouTube videos. This would be my recommendation when starting out if you are using a PC.
Adobe Audition: As my commitment and podcasting expertise grew, I decided to use Adobe Audition to record and edit my podcasts. It is a professional software with more features that you can purchase for $20 per month through the Adobe Creative Cloud. After using GarageBand first and then watching a few YouTube videos (see a common theme here) I found this software to be awesome. You don't need to use Adobe Audition right away when you are starting out, but I highly recommend it if you have the budget as it is an industry standard and is used by many of the top podcasters.

Pro Tools: I've also produced podcasts using Pro Tools, which is another professional software. Like Audition, I don't recommend using it when you are starting out unless your budget supports it. (My preference is to use Audition if you are going to spend the money.)
Podcast Recording Tip
Speed is a differentiator in business. You want to be able to publish a podcast quickly. The key is to be able to deliver a high-quality podcast in episode 1 by following this blueprint. This will have you better than 95% of podcasts out there.
Authenticity is very important to my personal brand and it should be for you too. You don't need to be perfect with your podcast nor does your audience expect you to be. You just need to be able to meet a standard level of quality.
Podcast Audio Mixers/Interface
When you are just getting started podcasting using an audio mixer or interface is not a necessity. I didn't use one until I was ready to take my podcast game to a new level.
A mixer or interface allows you to route, mix, and change the levels of the audio signals (which is fancy talk that doesn't really matter when first starting out.) Most professional podcasters use a mixer or interface.
When I first started podcasting I used a Behringer Q1202USB 12-Channel Mixer ($99) The main purpose of this was to allow me to do interviews by patching in my iPhone (when I wasn't using Zoom.) It's a bit dated now but gets the job done.
After that I upgraded to the Focusrite 6i6 Audio Interface ($249). I've been very happy with it as it allow me to have a simple interface, connect two microphones, plus hook up my iPhone or iPad. It's what I would recommend to someone on a budget who wants to level up their gear, but not break the bank.

I wanted to take my podcast production to the next level so I upgraded again and I'm currently using the RodeCaster Pro ($500). What I like about it is the ability to add in podcast audio drops/sounds easily. It also has multiple inputs so you can record with multiple people at once. It's great if you want to do podcast recordings in person.
Like I said, in the beginning you are fine without an audio mixer or interface. I just wanted to be thorough so if and when you decide to upgrade you've got some options.
Podcast Studio Lighting
If you are using your podcast studio to record the video of your podcast then it is important that you get some lighting. Remember: everything you do is a reflection of your brand. Because of this if you are going to have people watching you then let's make sure everyone can see how good you look. The good news is this doesn't have to be elaborate or expensive and it can be done pretty simply.
Elgato Key Light (Buy on Amazon) – $199. This podcast studio light is great because it clamps to your desk and saves space. This was super important for me because I used to have two of the soft box lights and they took up a ton of space. It also has an app to change the color temperature of the light, which is great for creating the look you want. I highly recommend this.

Lume Cube Broadcast Lighting (Buy on Amazon) – $99.95. One thing that was important to me in building out my podcast studio was versatility. I'm often traveling and want to be able to deliver the same level of video & audio quality no matter where I go. After extensive research to find a portable light I settled on this one. It gets the job done and is easy to transport and set up. I highly recommend you get the one with the tripod as it's much more stable than the suction cup that sticks to your computer.

Selfie Ring light (Buy on Amazon) – $90. I don't use a selfie ring light but it is one of the more popular options for podcast video lighting. It'll get the job done.

Soft Box lighting (Buy on Amazon) – $75 – At my home studio I have a soft box light directly in front of me. It softens hard light and eliminates shadows. I've got a few of these for when I use a green screen. The caveat with these is they take up space.
Podcast Studio Accessories
Green screen (Buy on Amazon) – $100 – If you want to add some creativity to your video podcast or Zoom calls then get a green screen. It'll allow you to change you background to whatever you want. This allows you to be intentional and add an element of polish to what you create.
Elgato Streamdeck (Buy on Amazon) – $150 – If you want to add sound drops to your podcast then this is an easy way to do so. It also allows you to add in graphics transitions. It is worth noting that when live streaming I was able to use this with Ecamm but not with StreamYard.
Podcast Headphones
When deciding where to spend your money with your podcast studio I do not recommend headphones being a huge investment. There are other more important things that will add to your podcast quality.

Wearing headphones when you are recording a podcast via Zoom is important so there is not an echo in your audio when your podcast guest talks. Audio quality is important so make wearing headphones part of your podcast routine.

As for which headphones to use for podcasting, I started out using the wired earbuds that came with my iPhone. After that I upgraded to the Airpod Pod so I could have a wireless setup, which I think looks better aesthetically.

If you wanted to get a pair of podcast headphones, a good and affordable option is the Shure SRH440. They are only $100 and come recommended.
Conclusion
Setting up your podcast studio is an investment in yourself. It is something you don't need to do all at once, but instead a little bit at a time as you grow into podcasting. Everything you do is a reflection of your brand so increasing the video & audio quality of your podcasts will pay off in the long term.
If you build your home podcast studio with flexibility in mind, it'll allow you to take your show on the road and still deliver a high level of quality. Doing that becomes the best of both worlds.
Starting a podcast has been one of the biggest blessings in my life and business and can be for you too. If you are interested in launching a podcast and want to get it done easier and faster then let's talk. I'd love to have a conversation about how I can help and make your vision a reality! You can sign up here.