Arete Syndicate: Excellence Personified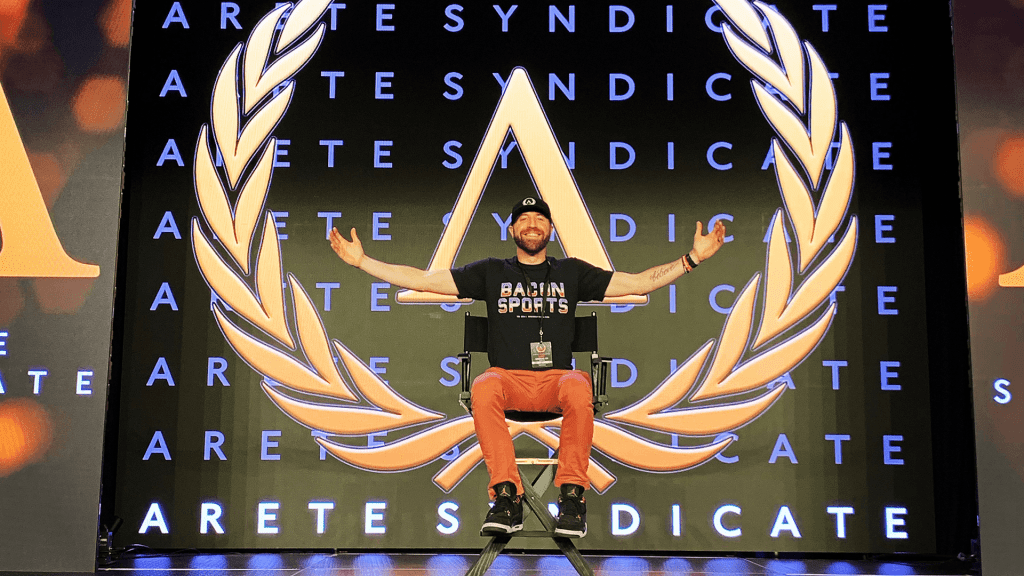 The Arete Syndicate is the greatest entrepreneurial movement for good in the world. Lead by Andy Frisella and Ed Mylett, the group is comprised of some of the most elite business minds and leaders in the world. Being part of the Arete Syndicate has been one of the best decisions I have ever made.
Applications to become part of the movement are now open, so I wanted to share my thoughts and experience having been part of it since the beginning. If you are interested in applying to be part of the Arete Syndicate then click the image below.

What is the Arete Syndicate?
The Arete Syndicate is the greatest collection of entrepreneurs, business leaders, and high performers I have ever come across. It is excellence personified, and that starts at the top with the two founders, Andy Frisella and Ed Mylett.
Every month on Zoom calls Andy and Ed share wisdom & lessons learned from their business building journeys. They break down what it takes to become the best in all areas of your life.
These 1 hour conversations are more than just business lessons. They are lessons on how to dominate at life while being a force for good at the same time. We as leaders are called to be better, so who better to learn from than the best.
The Arete Syndicate is a community
On top of the amazing teachings, one of the big value adds of being part of the Arete Syndicate is the community. The calibre of people that are part of this group is unlike anything I've ever come across. The reason is because the standard of excellence that we as Arete Syndicate members carry is second to none. We constantly strive to get better, and in the process make the world and people around us better.
The way Arete Syndicate members think and take action is a lifestyle and way of being. We lead by example, have massive goals and dreams, and will do whatever it takes to make them happen.
You often hear the quote, "you are the average of the five people you spend the most amount of time with." You want to be spending time with members of the Arete Syndicate, as well as on calls learning from Andy and Ed. It is some of the most valuable time I spend every week.
Why did I join the Arete Syndicate?
I joined the Arete Syndicate (then called the Arete Accelerator) when it first launched back in 2018. At the time there was virtually no information on what it was. I had been listening to both Andy Frisella and Ed Mylett's podcasts consistently so I already vibed with how they got down. Since I was all-in on building the business and life of my dreams, I figured that being part of something lead by two leaders that I already respected and was learning from was something worth moving forward with.
What I hoped to get out of joining the Arete Syndicate was to be able to level up my mindset, meet some awesome people, and grow my business. Because that was my mindset going into the group, I was able to get exactly that out of it.
Results from being part of the Arete Syndicate?
The results I've received from being part of the Arete Syndicate have been game changing. There is no hyperbole when I say it's one of the best things I've ever been part of. I can't imagine what my life would be like without it. The reason is because I am operating at a higher level and standard of excellence in all areas of my life.
The way I have been able to get these results has been very formulaic. It's something that anyone can do. The first thing I did was show up to every live call. I scheduled them in my calendar no different than I would any other business meeting.
While on the calls I would take copious notes. That way I could go back and review them. This is important because much of the information being shared was mind blowing (in a good way). They were teaching the blueprint for growth and success and I wanted to make sure I retained all of it. Just like riding a bike, you can't expect to master something when you hear it (or do it) for the first time. It takes repetition. After that it's about implementing at the speed of instruction.
I also made it a point to be active in the Arete Syndicate Facebook group. This allowed me to make connections with other members, plus get dialogue going between everyone. It's very easy to join a group like this and stay in the background. That isn't going to get you where you want to go. Being in dialogue with other thought leaders and business owners will.

75 Hard and Live Hard
One of the biggest things I've received from being part of the Arete Syndicate is completing 75 Hard and Live Hard. Since I already got down with Andy Frisella with his podcast, and then again in Arete, it was only natural for me to accept the challenge of becoming the best version of myself by doing his mental toughness program.
At first I wasn't interested in doing 75 Hard. Then I saw people in the Arete Facebook group posting about their journeys. Then I saw Andy paying his dues every day on Instagram. I thought to myself, "how can I be all-in on by dreams but not be willing to do this program that guarantees I'll be the best version of myself when I am done." That's when I decided to do the program and it was one of the best decisions of my life.
Is the Arete Syndicate worth it?
I've had a few people reach out to me and ask me this question and the answer is 100% yes. For a few hundred dollars a month you get access to learn from some of the best leaders in the world.
On top of that I challenge you to reframe the question. Instead of asking if it's worth it, ask yourself how you can show up every day to ensure that it is worth it (because that's what I did). You will get what you put into it. If you go all-in I guarantee it'll be game changing for you. It was for me. Without a doubt I am the best version of myself today and I have Andy Frisella, Ed Mylett, and the Arete Syndicate to thank for that.
If you are interested in applying to be part of the Arete Syndicate you can do so here. When you do apply let me know so that I can show you some love.